Thrivent Members can increase their impact to our mission through Thrivent Action Teams and Thrivent Choice Dollars®.
THRIVENT ACTION  TEAMS
Thrivent Action Teams are available to Thrivent members and does not cost the member anything. 
You can apply to lead your volunteer team in a one-time fundraiser, service activity or educational event that can benefit Fremont Area Habitat for Humanity or other organizations. Find out more on Thrivent's Action Team page.
Watch this video about Thrivent Action Teams
THRIVENT CHOICE DOLLARS
Eligible members can recommend where Thrivent distributes a portion of its charitable funding by directing Choice Dollars®. Members become eligible for Thrivent Choice based on insurance premiums, contract values and Thrivent volunteer leadership.  You can recommend that your Thrivent Choice dollars go to support Fremont Area Habitat for Humanity and help us build homes and hope for our local families.  Learn more on the Thrivent Choice page.
THRIVENT FAITH BUILD 2019
We are grateful to have been selected as a Thrivent Faith Build grant recipient for 2019.  Watch here for more news about our Faith Build and how you or your Church can get involved.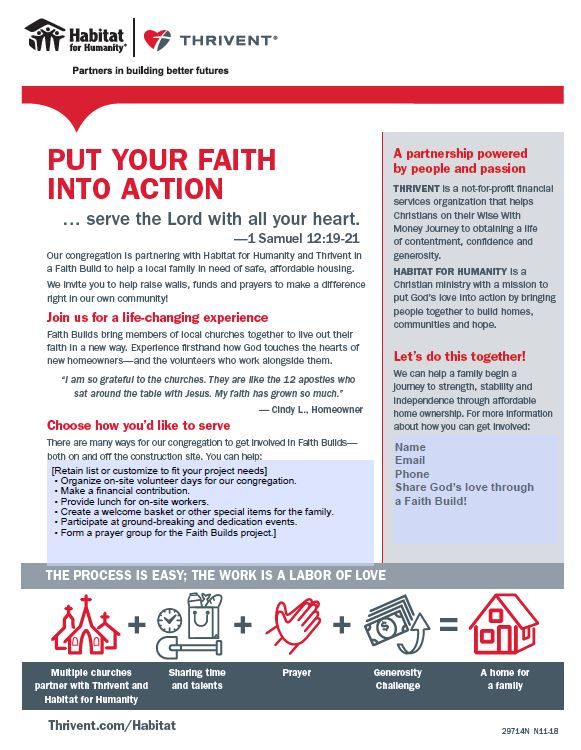 Looking For Thrivent Action Team Ideas?
Volunteer to provide lunch or a coffee break for our hardworking volunteer groups!
Host a bake sale that benefits Fremont Habitat!
Purchase tools, building materials and supplies to supplement your volunteer day with us!
Help with our Community Garden!
Host a car wash fundraiser to help "Clean Up Our Community" in support of Fremont Area Habitat for Humanity!
Host a "Party With a Purpose" to share about Habitat with you friends.
Organize an event at your Church to raise funds for Fremont Habitat.