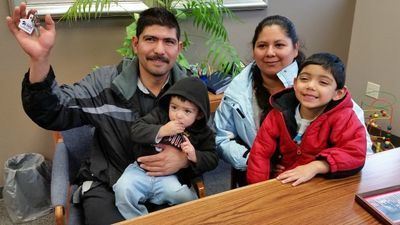 We are not currently taking applications for homeownership.  To receive information about applying during our next application period, please call 402-721-8771 or email us at info@fremonthabitat.org. 
What does Habitat for Humanity do?  Habitat for Humanity is an international, Christian, non-governmental, non-profit organization devoted to building simple, decent, and affordable housing. These houses are built through volunteer labor and donations of money and materials and often discounted labor of professional trades. Habitat is not a giveaway program. In addition to a down payment and monthly mortgage payments, homeowners invest hundreds of hours of their own labor (sweat equity) into building their Habitat house and the houses of others.
Why does Habitat build homes?  We believe everyone deserves a decent and safe place to live. Habitat for Humanity has shown that building homes does more than put a roof over someone's head. It is Habitat for Humanity's hope that in a clean, decent, stable housing: 1. Families can provide stability for their children. 2. A family's sense of dignity and pride grows. 3. Health, physical safety, and security improve. 4. Educational and job prospects increase.
What are Habitat homes like?  The Home Fremont Area Habitat for Humanity will build either a single family home or a townhome which is two single family homes sharing a common wall which will house two families.  All Fremont Area Habitat for Humanity homes, whether a single family home or a townhome, are similar floor plans and consist of the following: - 1056 square feet of living space -Kitchen - Three bedrooms -One bathroom - Living room -Central Air - Plumbing in basement for bathroom -Driveway.
How is a Family Partner chosen? The Family Selection Committee chooses applicants to become homeowners based on (1) their level of need; (2) their willingness to become partners in the program; &, (3) their ability to repay the loan.
What is Sweat Equity? Sweat equity refers to the hands-on involvement of the prospective homeowner families in the construction of their own homes and homes of others, as well as participation in other Habitat and community activities.  All sweat equity hours must be completed prior to moving into the home. A Partner Family having one adult as the head of the household must earn a total of 250 sweat equity hours. A Partner Family having two adults in the household must complete a total of 350 sweat equity hours.  Required classes and optional classes will be conducted or arranged by Habitat throughout the year, allowing Family Partners to learn and also earn sweat equity. Sweat equity will be awarded for the time of the classes.
How does someone apply for a Habitat home?   We only take applications once or twice a year, so please check back to see  if have opened an application period. We will also advertise in  the Fremont Tribune, and on our facebook page.  You may contact us at info@fremonthabitat.org if you would like us to add your name to our list of people to contact when we do start taking applications.